Plastic Bags collected for recycling February 20-23 at Riley!
Our principal Mr. Bjorkman supports our sustainability efforts at Riley
This checklist is posted in EVERY room at Riley Elementary to help decrease our energy use!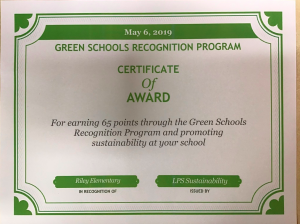 Mrs. Smith- Riley Elementary Sustainability Champion (pictured)
Members of the Riley Green Team:
Sandy Zulkoski
Chris McCurdy
Kira Peterson
if you would like to join the Riley Green Team!